Sniper baitboat, a compact and most advanced baitboat
The SNIPER baitboat is developed and produced in the Netherlands.
This advanced baitboat is handmade with only high quality parts and components, and therefore very durable.
It is fast, low noise, and has a great range ( up to 500 meters / 1600 feet).
Equipped with two baittanks each with a carrying capacity of 1 kilo / 2,2 Lb.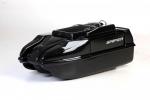 The hull of this boat is fabricated of 4,5 mm thick synthetic material (Acrylonitril-Butadieen-Styreen, short ABS) and is very hard and nearly unbreakeable, color highgloss black. With this model we have chosen a "triamaran" lower part, that means three parralel hulls together in one. Which provides this boat (loaded as well as unloaded) a very stable and calm way to sail even in rough weather conditions.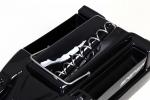 The basic model SNIPER has two baittanks on each side of the boat, which will go back in upright position after dropping your bait!
You can upgrade the carrying capacity of the SNIPER by adding the option: third baittank with yet another 1 kilo bait. This third baittank is equipped with an endless screw which allows you to drop the bait gradually.
On the front of the boat are two very bright blue leds and at the back a red and a green led. The front leds can be controlled with the transmitter. The leds at the back stay on so you can see that the boat is switched on. Also the blue leds will blink when the lead battery power is too low! This way you know when to change your lead battery. So you could say a battery indicator is an extra free option.
The transmitter we will provide with this baitboat is a 4 or 5 channel 2,4 Ghz and of proven good quality (for example, can be Graupner, Hype or Robbe). You could also upgrade the transmitter to the luxury Robbe Futaba T6J for € 100,-.
Naturally each baitboat will be delivered including one lead battery 12V/7Ah and the necessary loading equipment.
L.G. Bosveld Modelbouw gives two years guarantee on its products (providing rules and regulations by L.G. Bosveld Modelbouw are followed).
For foreign customers only: we offer a one time free shipment if the boat needs to be checked or repaired for whatever reason.
You can already buy a basic SNIPER baitboat from € 695,- (580 pound)
free shipment