PowerCatcher, the ultimate baitboat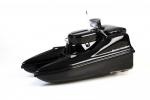 The PowerCatcher is a baitboat developed and produced in the Netherlands. It's a high advanced and handmade baitboat, build by the highest standards to ensure quality and durability.
Due to his speed, minimalised noise en the long range of over 500 meters, this Baitboat is the perfect choice for fishing on any location, even when travelling abroad.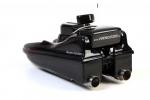 The body is made of 4,5mm thick, shockproof and almost unbreakable ABS-plastic. The PowerCatcher has a catamaran-type design which makes it ultra stable, loaded and unloaded, in every weather condition.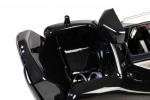 The basic version of the Powercatcher contains a standard bait tank with flap (so your PVA will stay dry!) which can hold 1,5 kg (3 Lb) of bait. There's a possibility to expand the boat with an optional extra bait compartment that can hold about 1 kg of bait and has an endless crew for spreaded baiting. All parts and components are of the highest quality because we want to ensure many years of pleasurable use of this ulimate baitbaot!

The basic PowerCatcher has 4 bright blue leds on the front, and a green and red one at the back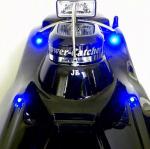 (an ultra bright spotlight is optional). The blue leds can be controlled with the transmitter. The leds at the back stay on so you can see that the boat is turned ON.
Also the blue leds will start to blink when the battery power runs low, this way you know when to change your battery.
The basic PowerCatcher baitboat comes with a 5 or 6 channel transmitter 2,4 Ghz of proven good quality ( can be Graupnet, Hype or Robbe). Naturally batteries or batterypack for the transmitter, the leadbattery (12V/7Ah) and the necessary chargers are also included.
Bosveld Modelbouw offers a two-year warranty on the quality of the PowerCatcher".(As long the user adheres to the instructions for use as given by Bosveld Modelbouw).
For our foreign customers only: we offer a one time free shipment if the boat needs to be checked or repaired for whatever reason.
You can already buy a basic PowerCatcher baitboat from: €795,- (660,- pound) free shipment